Our Professional Staff
Rabbi Steven Henkin
Rabbi Steven Henkin is thrilled to having joined Congregation Agudath Achim. A native of the Chicago suburbs (and lifelong Chicago sports fan), Rabbi Henkin received his B.A. in Jewish Studies, Religious Studies, and Psychology from the University of Minnesota before moving to Atlanta, where he earned his M.A. in Jewish Studies from Emory University and worked in the religious school at Ahavath Achim Synagogue. He later moved to Los Angeles to attend the Ziegler School of Rabbinic Studies, where he received his rabbinic ordination and M.A. in Rabbinic Studies in 2014. Before coming to Savannah, Rabbi Henkin served as the Director of Congregational Learning at Congregation B'nai Tzedek in Potomac, Maryland. Rabbi Henkin brings with him a passion for building Jewish community, education both of children and adults, and making Judaism meaningful and relevant to the daily life of 21st Century Jews, along with a love of reading, music, TV crime shows, yoga, sports, and being outdoors. He is excited to share his adventures with his wife, Orly, and his children, Dinah and Noah.
Email Rabbi Henkin at rabbihenkin@gmail.com.
Our Executive Director – Motti Locker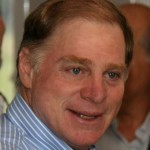 Motti came to us from Jerusalem, Israel, where he was born and raised. He holds a masters degree in Jewish Philosophy and Jewish Education. Motti has been an educator for many years in the Malitz Institute, WUJS, Amit and the Jewish Agency for Israel. Before coming to Savannah he was the director of the adult division of the Bronfman Center and the Director of "Project Areivim". He has been our Executive Director since 2005 and is overseeing our administration, development and programs. He is married to Eva and they have three children, Tomer, Uri and Shani. He loves reading, studying the Torah and socializing with his friends and family.
Email Motti at mottilocker@aol.com.
Maintenance Worker – Minge Bolden
Minge was born and raised in Alabama. He has been working at Agudath Achim since the late 90's. He is in charge of all building maintenance and makes sure that our building stays clean and tidy. He loves fishing and spending time with his family.